Archive for the 'sali' tag
I came across a recent paper from the Tropsha group that discusses the issue of modelability – that is, can a dataset (represented as a set of computed descriptors and an experimental endpoint) be reliably modeled. Obviously the definition of reliable is key here and the authors focus on a cross-validated classification accuracy as the measure of reliability. Furthermore they focus on binary classification. This leads to a simple definition of modelability – for each data point, identify whether it's nearest neighbor is in the same class as the data point. Then, the ratio of number of observations whose nearest neighbor is in the same activity class to the number observations in that activity class, summed over all classes gives the MODI score. Essentially this is a statement on linear separability within a given representation.
The authors then go show a pretty good correlation between the MODI scores over a number of datasets and their classification accuracy. But this leads to the question – if one has a dataset and associated modeling tools, why compute the MODI? The authors state
we suggest that MODI is a simple characteristic that can be easily computed for any dataset at the onset of any QSAR investigation
I'm not being rigorous here, but I suspect for smaller datasets the time requirements for MODI calculations is pretty similar to building the models themselves and for very large datasets MODI calculations may take longer (due to the requirement of a distance matrix calculation – though this could be alleviated using ANN or LSH). In other words – just build the model!
Another issue is the relation between MODI and SVM classification accuracy. The key feature of SVMs is that they apply the kernel trick to transform the input dataset into a higher dimensional space that (hopefully) allows for better separability. As a result MODI calculated on the input dataset should not necessarily be related to the transformed dataset that is actually operated on by the SVM. In other words a dataset with poor MODI could be well modeled by an SVM using an appropriate kernel.
The paper, by definition, doesn't say anything about what model would be best for a given dataset. Furthermore, it's important to realize that every dataset can be perfectly predicted using a sufficiently complex model. This is also known as an overfit model. The MODI approach to modelability avoids this by considering a cross-validated accuracy measure.
One application of MODI that does come to mind is for feature selection – identify a descriptor subset that leads to a predictive model. This is justified by the observed correlation between the MODI scores and the observed classification rates and would avoid having to test feature subsets with the modeling algorithm itself. An alternative application (as pointed out by the authors) is to identify subsets of the data that exhibit a good MODI score, thus leading to a local QSAR model.
More generally, it would be interesting to extend the concept to regression models. Intuitively, a dataset that is continuous in a given representation should have a better modelability than one that is discontinuous. This is exactly the scenario that can be captured using the activity landscape approach. Sometime back I looked at characterizing the roughness of an activity landscape using SALI and applied it to the feature selection problem – being able to correlate such a measure to predictive accuracy of models built on those datasets could allow one to address modelability (and more specifically, what level of continuity should a landscape present to be modelable) in general.
Sometime back John Van Drie and I had developed the Structure Activity Landscape Index (SALI), which is a way to quantify activity cliffs – pairs of compounds which are structurally very similar but have significantly different activities. In preparation for a talk on SALI at the Boston ACS, I was looking for SAR datasets that contained cliffs. It turns out that ChEMBL is a a great resource for SAR data. And with the EBI providing database dumps it's very easy to query across the entire collection to find datasets of interest.
For the purposes of this talk, I wanted to see what the datasets looked like in terms of the presence (or absence of cliffs). Given that the idea of an activity cliff is only sensible for ligand receptor type interactions, I only considered compound sets associated with binding assays. Furthermore, I only considered those assays which involved human targets, had a confidence score greater than 8 and contained between 75 and 500 molecules. (If you have an Oracle installation of ChEMBL then this SQL snippet will get you the list of assays satisfying these constraints).
This gives us 31 assays, which we can now analyze. For the purposes of this note, I evaluated the CDK hashed fingerprints and used the standardized activities to generate the pairwise SALI values for each of the datasets (performing the appropriate log transformation  of the activities when required). The matrices that represent the pairwise SALI values are plotted in the heatmap montage below (the ChEMBL assay ID is noted in each image) where black represents the minimum SALI value and white represents the maximum SALI value for that dataset. (See the original paper for more details on this representation.) Clearly, the "roughness" of the activity landscape differs from dataset to dataset.
At this point I haven't looked in depth into each dataset to characterize the landscapes in more detail, but this is a quick summary of multiple datasets. (Though a few datasets contain cliffs which are derived from stereoiomers and hence may not actually be real cliffs – since their activity difference may be small, but will look structurally identical to the fingerprint).
An alternative and useful representation is to convert the SALI values for a dataset into an empirical cumulative distribution function to provide a more quantitative view of how cliffs are distributed within a landscape. I'll leave those details for the talk.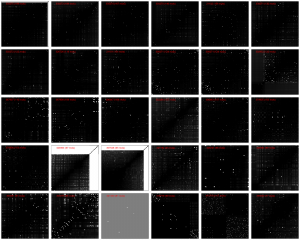 Some time back, John Van Drie and myself had done some work on characterizing structure-activity cliffs, which are molecules that have very similar structures but very different activities. The term originated from Maggiora, who suggested that this was a reason for the failure of many QSAR models. At the same time, such cliffs can represent the most interesting portions of a structure-activity relationship. Our first paper introduced the idea of the Structure Activity Landscape Index (SALI) – a numerical metric to characterize activity cliffs and SAR landscapes, and was followed by a paper describing how one could use SALI to characterize the quality of predictive models. We also put out some software to let others use SALI to analyse their own data.
A few weeks back I heard from Jinhua Zhang at Simulations Plus Inc., that they had implented the SALI methodology in their ADMET Predictor product. He also provided some slides showing how they used SALI to characterize a variety of predictive models for hERG inhibition.
It's a nice feeling to see our theoretical work being incorporated into a real world product!
Last year, John Van Drie and I published two papers (here and here) on the Structure Activity Landscape Index, (SALI) which is a way to view SAR data as a network of compounds. Along with the paper ,I put up a simple Java application (licensed under the LGPL) to generate and explore these networks. – you only need to provide a file containing SMILES and activities. It's based on ZGRViewer – a very slick GUI for Graphviz generated networks. I finally got around to reorganizing the code and putting it up on a GitHub repository. You can get more details of the application and the last stable version here.