Yesterday I attended the High Content Analysis conference in San Francisco. Over the last few months I've been increasingly involved in the analysis of high content screens, both for small molecules and siRNA. This conference gave me the opportunity to meet people working in the field as well as present some of our recent work on an automated screening methodology integrating primary and secondary screens into a single workflow.
The panel discussion was interesting, though I was surprised that standards was a major issue. Data management and access is certainly a major problem in this field, given that a single screen can generate TB's of image data plus millions to even billions of rows of cell-level data. The cloud did come up, but I'm not sure how smooth a workflow would be involving cloud operations.
Some of the talks were interesting such as the presentation on OME by Jason Swedlow. The talk that really caught my eye was by Ilya Goldberg on their work with WND-CHARM. In contrast to traditional analysis of high content screens which involves cell segmentation and subsequent object identification, he tackles the problem by consider the image itself as the object. Thus rather than evaluate phenotypic descriptors for individual cells, he evaluates descrptors such as texttures, Haralick features etc., for an entire image of a well. With these descriptors he then develops classification models using LDA – which does surprisingly well (in that SVM's don't do a whole lot better!). The approach is certainly attractive as image segmentation can get qute hairy. At the same time, the method requires pretty good performance on the control wells. Currently, I've been following the traditional HCA workflow – which has worked quite well in terms of classification performance. However, this technique is certainly one to look into, as it could avoid some of the subjectivity involved in segmentation based workflows.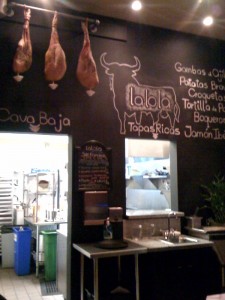 As always, San Francisco is a wonderful place – weather, food and feel. Due to my short stay I could only sample one resteraunt – a tapas bar called Lalola. A fantastic place with a mind blowing mushroom tapas and the best sangria I've had so far. Highly recommended.